Here are some of the instruments that we have ordered for the shop and some opportunities to secure tops from PRS, SUGI and SANTA CRUZ that we have selected for their special beauty. The woods and spec of the customs have been carefully selected in conjunction with the luthiers to achieve the finest sound, playability and appearance. See workshop updates as the builds progress on our INSTAGRAM CHANNEL or email to request updates.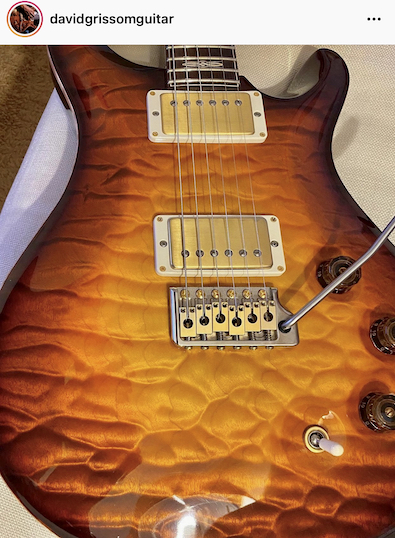 PRS Private Stock DGT 'Sweet Amber'
Eta: Dec 2022
This custom shop DGT was ordered based on the actual guitar owned by David Grissom as seen in his Instagram post from 9 Aug 2020, except we opted for Ebony tuning buttons and a matching Flame Maple Neck. Curly Maple top with McCarty Amber Glow, Ebony board, African Ribbon Mahogany body, TCI DGT pickups, Phase III locking tuners with Ebony buttons, and the GEN trem with locking saddles.
These goodies below are also due in over the next 3-12 months. In each case there is only one if you want to reserve with a deposit:
- a diverse range of the latest Acoustics, Electrics and Basses which you can peruse here: https://prsguitars.com/products. Get in touch to find out which we have coming or if you want to order anything.
---